Biosolids Program
Biosolids Beneficial Reuse Program
As part of our participation in the National Biosolids Partnership and our commitment to continual improvement, KUB will undergo a third-party audit on December 6 and 7. If you are interested in participating, please email biosolids@kub.org before November 20, 2017.
KUB's Biosolids Mission Statement is to establish and maintain an exemplary residuals management program that is suitable, economically viable, and environmentally responsible. KUB's goal is to maintain a biosolids website to help educate farmers and the public about our safe and beneficial biosolids program, which helps protect our environment and improve farms in our area. We are committed to posting our biosolids annual reports and other information that show how we meet regulatory requirements and the standards of the National Biosolids Partnership, such as the Code of Good Practice.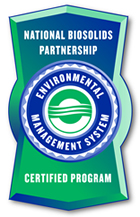 Biosolids are nutrient-rich organic matter resulting from the treatment of wastewater. This by-product can be recycled and applied like a fertilizer to improve and maintain productive soils and stimulate plant growth. KUB biosolids are registered as a fertilizer with the Tennessee Department of Agriculture. KUB provides nearly 30,000 wet tons of material to local farmers as a fertilizer and soil conditioner annually through its Biosolids Beneficial Reuse Program.

KUB's biosolids program follows the U.S. Environmental Protection Agency (EPA) rules and the Tennessee Department of Environment and Conservation (TDEC) guidelines for land application. KUB also worked with the National Biosolids Partnership (NBP) to develop an Environmental Management System (EMS) for the program, which includes involving and educating the community. After a rigorous review process, the NBP awarded KUB's program certification in December 2011. KUB is one of only 34 organizations in the U.S. certified under the NBP and the second to be certified in Tennessee.

Land application of biosolids is beneficial to farmers, municipalities, and the community and takes place in all 50 states. Farmers and gardeners have been recycling biosolids for ages, and the use of biosolids has increased significantly over the past 20 years.
Biosolids provide organic material that can improve yields over several harvests.
Biosolids can be a cost-efficient complement or alternative to chemical fertilizers.
Biosolids meet strict quality control and safety requirements set by the EPA. Regular monitoring verifies compliance.
Class B: pathogens reduced. The site is temporarily restricted until pathogen breakdown is complete.
Despite common misconceptions, biosolids are not untreated human or commercial waste. For more information on KUB biosolids processing and regulatory requirements, see our biosolids whitepaper and brochure.
If you have any questions or suggestions about biosolids, please e-mail biosolids@kub.org. KUB will respond to your e-mail within five working days. [Note: E-mail is for non-emergency requests only.]