The KUB Fleet
Energy efficient vehicles
KUB's well-known white trucks first went "green" in the 1970s. That's when KUB converted some vehicles to run on compressed natural gas (CNG).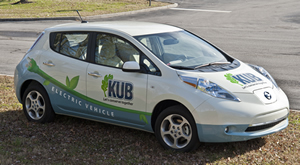 In 2005, KUB began switching other vehicles to alternative fuels. KUB started using a blend of 20 percent biodiesel (B20) for all diesel vehicles and equipment (such as generators). KUB also obtained infrastructure to dispense a blend of 85 percent ethanol (E-85) to its flex fuel vehicles. In addition, KUB leased an all electric Nissan Leaf, two hybrid electric vehicles (HEVs) and purchased three dedicated CNG vehicles.
MotorWeek television show highlights a different vehicle fleet around the nation for its commitment to renewable energy and energy efficiency. In January 2011, the show recognized the Knoxville Utilities Board's fleet as a Clean Cities Success Story on East Tennessee PBS.
In 2006, KUB revised its procurement standards to require a blend of 10 percent ethanol even in its standard gasoline vehicles. In 2007, KUB purchased several hybrid electric trucks and an all-electric vehicle for off-road use at the plants. Due to increased fuel costs in 2008, KUB cut its use of biodiesel from a 20 percent blend to a 5 percent blend (B20 to B5), but KUB also gained an additional all-electric off-road vehicle and a new hybrid-electric bucket truck. Now KUB is looking at on-road all-electric vehicles and additional applications for CNG.

In addition to meeting annual regulatory requirements of the Energy Policy Act of 1992, KUB's commitment to alternative fuels is estimated to have prevented the combustion of nearly 40,000 gallons of gas and diesel in 2011. That's equivalent to roughly 90 tons of carbon dioxide, which is a significant greenhouse gas.
KUB's hybrid electric diesel truck decreases particulate emissions by 96 percent and travels 57 percent further on a gallon of fuel. KUB can expect a fuel cost savings of almost $20,000 during the truck's anticipated 12-year life cycle.