Green Invest Partnership with TVA
Bringing renewable energy to our customers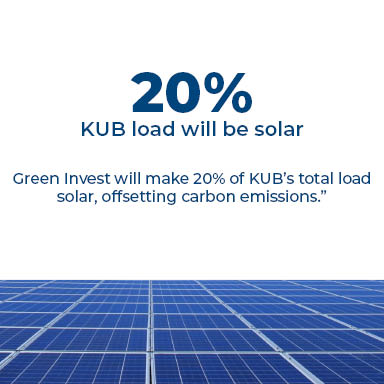 In 2020, KUB entered into Green Invest agreements with TVA to secure 502 MW of new-to-the-grid solar power for its customers. These new solar investments will generate an amount equal to 20 percent of KUB's annual electric load, or the equivalent of powering approximately 83,000 average homes.
KUB was the first of TVA's local power companies to enter a Green Invest agreement with a commitment of 212 megawatts of solar power in March 2020. Others to take advantage of TVA's Green Invest offering include General Motors, Facebook, and a partnership between the city of Nashville, Vanderbilt and LPC Nashville Electric for 100 megawatts.

In November 2020, KUB added 290 megawatts to KUB's Green Invest commitment for a total of 502 megawatts annually – the largest commitment of any organization to take advantage of the Green Invest program.
These solar purchases provide a strong foundation for KUB's standing as a leader in environmental stewardship and supports the utility provider's commitment to attracting new business to Knoxville and the surrounding counties.
TVA launched the Green Invest program to help meet the renewable goals of private companies by building new solar facilities in the TVA region, connected to the TVA grid. The agreements with KUB marks the first between TVA and a local power company.