Renewable Energy at KUB Facilities
Benefitting the Environment and Reducing Operating Costs
Engineering Building Solar Array and Sustainability Features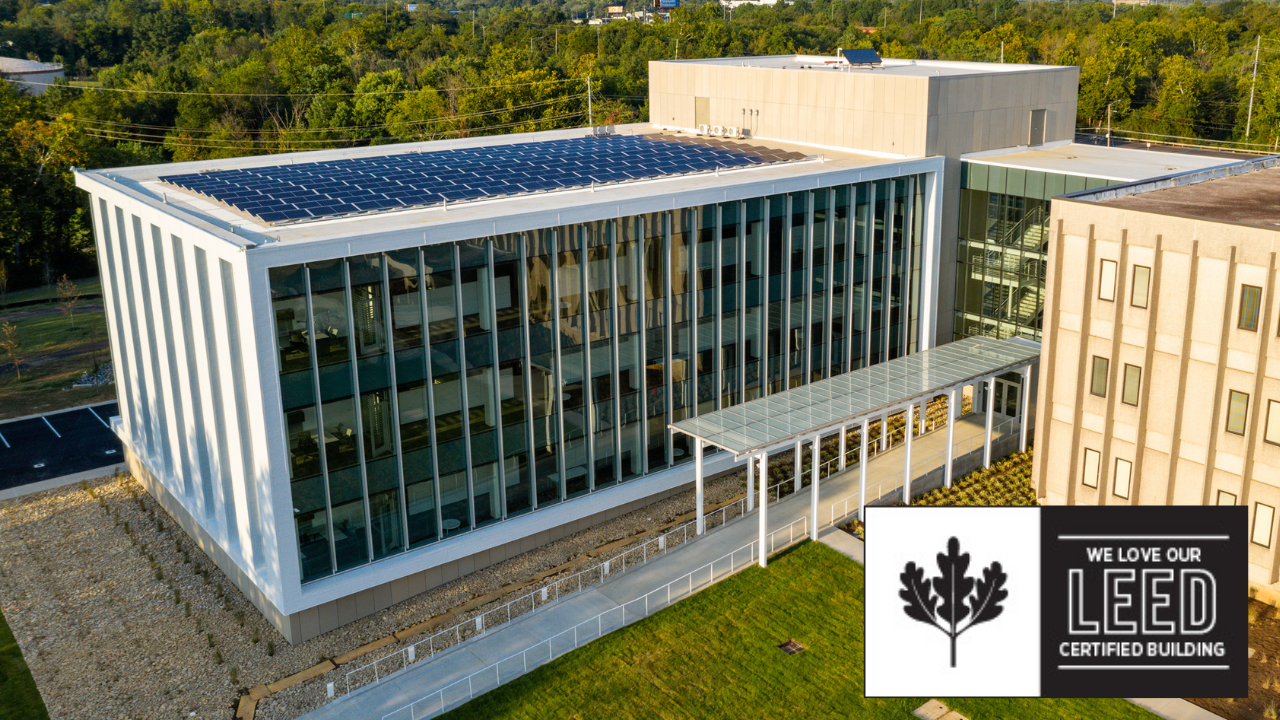 KUB's new 45,000 square-foot Engineering Building at the Hoskins Operations Center campus was completed in summer 2019 and was designed with sustainability in mind. KUB received Leadership in Energy and Environmental Design (LEED) Certification for sustainability features included in the building's design. LEED provides an independent verification of green design, construction, and operation and maintenance of energy efficient and high-performing buildings and neighborhoods. The building also won a 2020 Orchid Award from Keep Knoxville Beautiful in the area of Environmental Stewardship. The building includes a 57-kilowatt rooftop solar array, along with the following sustainability features:
On-site concrete recycling during construction
Off-site asphalt, steel, and wood recycling during construction
100 percent LED light fixtures
Eight new electric vehicle charging stations with capacity for expansion
Hot water solar panel serving restrooms and break rooms
Daylight sensing perimeter lighting
Highly efficient water fixtures and HVAC system with smart capabilities

Graphic Legend:
Red = energy consumed by the building
Yellow = energy produced by solar array
Green = solar energy consumed by the building
Green Lines = expected average daily/monthly goal
Mintha Roach Corporate Services and Conference Center Solar Array
In 2017, KUB added a 50 kilowatt rooftop solar array on its Mintha Roach Corporate Services Building. The system was designed to offset 15 percent of the building's electric load and 45 metric tons of carbon dioxide equivalent annually, which is equal to preventing emissions from 110,000 miles driven or 5,100 gallons of fuel consumed. Additionally, the project helps KUB better understand solar impacts on the electric system and support customers who are interested in installing their own systems.

Graphic Legend:
Red = energy consumed by the building
Yellow = energy produced by solar array
Green = solar energy consumed by the building
Green Lines = expected average daily/monthly goal