Paperless Billing
Go Paperless! It's the green thing to do
Sign up for Paperless Billing and get a $5 gift card from one of 25 retailers [includes Walmart, Subway and Panera Bread*].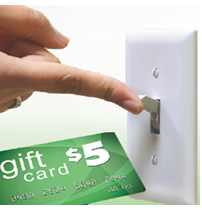 With Paperless Billing, you reduce clutter, help the environment, and get:
An e-mail** when your bill posts each month, which will include the amount due and due date
A courtesy reminder before your bill is due
Secure online access to 18 months of your bills
Secure payment options that let you pay online or by phone, anytime, from anywhere
Peace of mind; no worries about bills being lost—or stolen by identity thieves
To Sign Up:
Log in to your account and go to "Billing Options."
Check "Enroll Me" to sign up for Paperless Billing.
Click on "Edit Email" and confirm a valid email address to receive your gift card redemption instructions.
*The listed merchants are in no way affiliated with KUB nor are the listed merchants considered sponsors or co-sponsors of this program. Uses of merchant names and/or logos are by permission of each respective merchant and all trademarks are the property of their respective owners.
**You may also set your preferences to receive text notifications for your bill.