Water and Wastewater Savings
Water efficiency tips to save money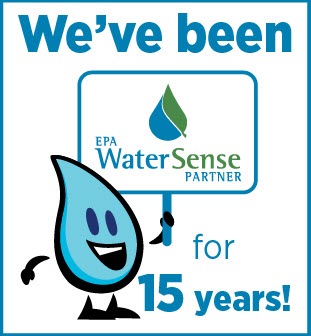 As an EPA WaterSense partner, KUB is committed to helping customers conserve water and save money. A few simple changes in how you use water can have a big impact, and this week, we're focusing on finding and fixing leaks. Click here for tips from EPA WaterSense.
Additionally, WaterSense labeled products meet special standards for efficiency and performance and can help you achieve even more savings.
Because wastewater charges are based on your actual water usage, conserving water saves you money on your water and wastewater bills. Click here to read more about saving water in your home through KUB's Savings In The House partnership with the City of Knoxville.
KUB also offers watering and leak credits to help customers save money.
Energy & Water Saving Workshops
KUB offers Energy & Water Saving Workshops free to area community groups and organizations. Learn more about workshops and sign up here.
How to Save
In the Yard
Water only when needed. Experts recommend watering no more than twice a week under normal conditions. Using a rain gauge can help you keep track of the rainfall your yard has received.
Water lawns and gardens in the cooler morning or evening hours. A great deal of water from sprinklers evaporates, especially in the heat of the day.
Inspect, connect, direct, and select your sprinkler to be as efficient as possible. Follow EPA WaterSense Sprinkler Spruce Up tips found here.
Raise the blade on your lawn mower to at least three inches. Closely cut grass makes the roots work harder, requiring more water.
Avoid over fertilizing the lawn as it increases the lawn's need for water and can be a source of pollution in area waterways.
Use mulch around plants to conserve water, and consider using native or low-water-use plants and trees in your landscaping.
Use a rain barrel to capture rainwater for irrigation.
Detect and repair all leaks in irrigation systems, pools, and spas.
Cover your spa or pool – an average size pool left uncovered can lose as much as 1,000 gallons of water per month from evaporation.
Take advantage of KUB's Watering Credit Programs or install an irrigation meter to deduct your pool and irrigation consumption from your wastewater bill.
Faucets and Showers
Replace old, inefficient faucets, aerators, and showerheads with WaterSense labeled models, which can save the average family 700 gallons of water a year - enough for 40 showers.
Fix leaky faucets and always make sure faucets are turned off completely. One drip per second can add up to 150 gallons of water per month.
Don't run the water while shaving, brushing teeth, or washing dishes. That can waste as much as 3,000 gallons per year.
Don't let water you're running to achieve a particular temperature go down the drain. Use a container to save it for other uses, like drinking, plant watering, or cleaning. If filling a bath, collect the cold water and let the hot water warm it. Consider instant water heaters for sinks.
Minimize the use of kitchen sink disposals; they require a lot of water to work properly.
Do not use running water to thaw frozen food. Defrost it overnight in the refrigerator or use the defrost setting on your microwave.
Use the dishwasher rather than washing dishes by hand, and run it only when it's full.
Toilets
Replace old, inefficient toilets with WaterSense labeled models, which are responsible for most of the water wasted in American homes. Older toilets are a major source of wasted water in homes and use as much as 6 gallons per flush while new efficient models use just over 1 gallon per flush.
Fix leaky toilets and replace or adjust the handle if it sticks. To find a leak, add 12 drops of food coloring to the tank and wait five minutes. If any coloring seeps into the bowl, there's a leak that can usually be fixed by replacing the flapper.
Reduce the amount of water your toilet uses by installing a toilet displacement device or simply placing a weighted plastic container in the tank. (Make sure it doesn't get in the way of the flushing system.)
Avoid unnecessary flushing. Dispose of tissues, insects, and other similar waste in the trash instead of the toilet. View KUB's Toilets are Not Trash Cans information to learn how to avoid costly plumbing repairs while saving water from unnecessary flushing.
Kitchen
A properly loaded dishwasher can use less water than washing dishes by hand.
Minimize the use of kitchen sink disposals; they require a lot of water to work properly.
Do not use running water to thaw frozen items. Defrost them overnight in the refrigerator or use the defrost setting on your microwave.
Consider an instant water heater for the kitchen sink so the water doesn't have to run while it heats up.
When washing dishes, fill one sink or basin with soapy water and rinse quickly under a slow stream of water from the faucet.