Facilities
KUB offices and operation centers
Hoskins Center
4505 Middlebrook Pike
Knoxville, TN 37921-5530
Directions from downtown Knoxville
1: Start out going Southwest on W MAIN ST toward STATE ST. 0.03 miles
2: Turn RIGHT onto STATE ST. 0.05 miles
3: Turn LEFT onto W CUMBERLAND AVE SW/ US-11 S/ TN-1 S. 0.33 miles
4: Turn RIGHT onto HENLEY ST/ TN-33 N/ TN-71 N. 0.19 miles
5: Take the I-40 E ramp toward ASHEVILLE. 0.29 miles
6: Merge onto I-40 W toward NASHVILLE. 1.16 miles
7: Take the US-129/ ALCOA HWY exit- exit number 386B- toward AIRPORT/ SMOKY MTS. 0.39 miles
8: Take the ramp toward SUTHERLAND AVE. 0.14 miles
9: Turn SLIGHT LEFT onto PARTNERS PL. 0.09 miles
10: Turn SLIGHT RIGHT onto MIDDLEBROOK PIKE/ TN-169 W.
KUB Corporate Offices
445 S. Gay Street
Knoxville, TN 37902

Directions from I-40 / I-75
1: Take the US-441 S/ HENLEY ST exit- exit number 388- toward DOWNTOWN.
2: Take the TN-62 ramp toward WESTERN AVE/ SUMMIT HILL DR.
3: Turn LEFT onto WESTERN AVE/ TN-62.
4: WESTERN AVE/ TN-62 becomes W SUMMIT HILL DR.
5: Turn RIGHT onto S GAY ST.
Payment Locations Map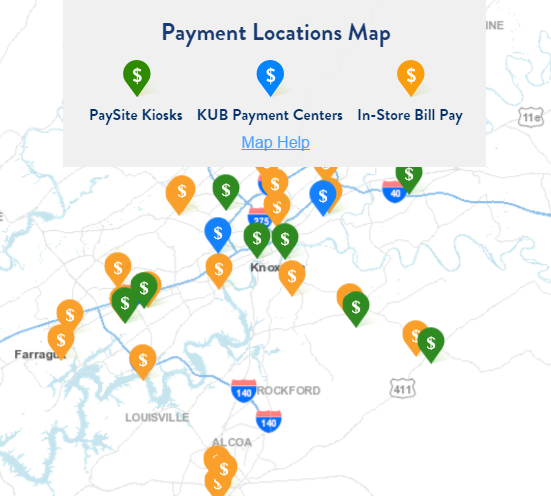 Find a KUB Payment Location near you!