Financial Reports
Financial Reports
The KUB Board of Commissioners approved an $889 million budget for fiscal year 2016 at its May meeting. The proposed budget continues the 10-year funding plans the Board had previously endorsed for each system in resolutions in 2011 and 2013. This funding approach allows KUB to continue to make long-term plans to maintain, replace, and grow each system to meet our customers' needs. That helps KUB improve reliability, ensure safety, meet regulatory standards, and be environmentally responsible.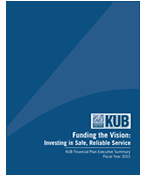 In April 2014, KUB staff presented a comprehensive financial plan to the Board of Commissioners. You can find a summary of the fiscal year 2015 plan, including an overview of the long-term plans for infrastructure replacement in the Funding the Vision Executive Summary. You can also view the full presentation made to the Board, a link to the American Society of Civil Engineers Infrastructure Report Card, and links to resolutions from 2011 and 2013 passed by the KUB Board of Commissioners endorsing our Century II funding plans.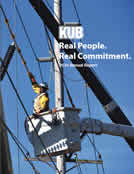 Our customers count on us for reliable service. The KUB 2016 Annual Report details specific efforts that will help us continue to provide that reliable service at affordable rates.
KUB's annual report also includes recent initiatives, our corporate structure, and both our consolidated and full audited financial statements, which are listed below in the Audited Financial Statements.
The two most recent annual reports are available below.
2015 Annual Report
2014 Annual Report
Budget
2nd Quarter Financial Report 2017
1st Quarter Financial Report 2017
3rd Quarter Financial Report 2016
2nd Quarter Financial Report 2016
1st Quarter Financial Report 2016
Fiscal Year 2017 Budget and Funding Recommendations
3rd Quarter Financial Report 2015
2nd Quarter Financial Report 2015
1st Quarter Financial Report 2015
Audited Financial Statements
FY16 Full Audited Financials
FY16 Consolidated Financials
FY15 Full Audited Financials
FY15 Consolidated Financials
FY14 Full Audited Financials
FY14 Consolidated Financials
FY13 Full Audited Financials
FY13 Consolidated Financials
FY12 Full Audited Financials
FY12 Consolidated Financials
Debt Reports
Electric Refunding Bonds - Plan of Refunding and State Report
Gas Refunding Bonds - Plan of Refunding and State Report
Water Refunding Bonds - Plan of Refunding and State Report
Wastewater Refunding Bonds - Plan of Refunding and State Report
KUB Debt Management Policy