Century II
An investment in our next 100 years of quality service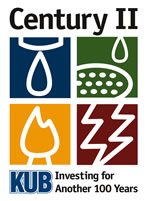 KUB, like other utilities nationwide, continues to face the challenge of replacing aging infrastructure. Century II, an infrastructure management program KUB launched in May 2007, is designed to be an investment in our next 100 years of quality service—and in the quality of life in our community.
Century II is KUB's proactive long-range program to improve and maintain the electric, natural gas, water, and wastewater systems for our customers. It includes the maintenance and replacement strategies for each system that were in place before Century II and establishes sustainable replacement cycles. It moves KUB into its second century of service by improving each system through sound planning, resource allocation, and continued, but accelerated, investment.
Funding for Century II is on track to help KUB continue to provide safe, reliable utility services and meet customer needs—now and in the future. Replacement projects are expensive, but the investment in our community's health and future is worth it. By anticipating and addressing needs now, customers will realize long-term benefits and experience even fewer service interruptions.
Century II includes all four services, but at any given time, each may be at a different stage of assessment, prioritization, planning, or implementation. For an overview of the replacement focus for each service, please see below. You can also find more information in our Century II Information Sheet and Frequently Asked Questions section.
Upgrading the Electric System
Our lives and businesses run on electricity. KUB understands how vital it is to provide reliable service to current customers and to support future growth.
The electric system continues to focus on replacing or upgrading aging poles, overhead wires, and underground cables. We are on track to replace 2,600 poles and 14 miles of underground cable a year, which is a sustainable life-cycle replacement program for those elements. We are also concentrating on our substations, some of which have been in service since the 1940s. Good maintenance over the years means they still provide good service, but we need to upgrade or replace some equipment to ensure it continues to meet customers' needs as electric demand—and technologies—change.
At the proposed level of investment over 10 years, the electric system will be able to:
Replace 26,000 poles (20 percent of the system)
Replace all cross-linked polyethylene (XLP) underground cable
Modernize 98 percent of our substations
Update 70 percent of our distribution system
Link all substations by fiber-optic lines for better communications
The Natural Gas System
KUB continues to look at the need to replace older pipe types and extend service to provide a safe, reliable system to serve current and future customers. We have had numerous gas asset replacement programs for decades, continually renewing the system, which we rolled into Century II.
The natural gas system continues to focus on replacing older pipe types with plastic pipe that has a longer life and lower maintenance costs. Revenues over this timeframe will also help fund new construction, support regulatory programs, and increase safety surveys and corrosion monitoring.
At the proposed level of investment over 10 years, the natural gas system will be able to:
Complete the 35-year cast iron main replacement program that started in 1980. By 2015, no cast iron pipe will remain in the gas system
Complete the South Loop Project connecting KUB's transmission lines with UT's new natural gas-fired steam plant and improving system redundancy
Bring the low-pressure steel main replacement program to 50 percent completion
Change the make-up of the system to include predominantly newer, longer lasting pipe types: 93 percent plastic, 4 percent low-pressure steel, 3 percent high-pressure steel
Upgrading the Water System
We are proud of our safe, high-quality water and committed to maintaining the system that delivers it. Although KUB's water system has stood the test of time well, some components are nearing the end of their useful life.
KUB was able to accelerate our rate of replacement for older pipes under the 10-year Century II financial plan approved in 2011. KUB increased the goal for removing older galvanized and cast iron pipe from our system from seven miles a year to 17 miles a year.
With the proposed level of investment over 10 years, the Century II program will:
Eliminate all galvanized main, which has the highest water break and leak rate
Replace all but 5 miles of older large-diameter cast iron main, which is nearing the end of its useful life expectancy of 100 years
Replace 40 miles of smaller-size cast iron main
Replace 24 miles of cement pipe, which was installed between 1940 and 1980
Significantly improve the water system:
· Before: Older pipe types make up 50 percent of the system
· In 10 years: Older pipe types will make up about 33 percent of the system
The Wastewater System

Sewer overflows and aging wastewater system infrastructure are growing concerns across our nation. KUB, like many other utilities, is under a federal Consent Decree (CD) to make system improvements. KUB launched Partners Acting for a Cleaner Environment (PACE 10) in 2004, and when the Environmental Protection Agency issued our CD in 2005, we included the CD requirements in the PACE 10 program. As the projects required by the CD are finished, KUB will roll wastewater system management into the Century II program for ongoing maintenance and replacement needs.
KUB accelerated wastewater system replacements in 2004 with the $650 million PACE 10 program, which addresses requirements from the federal Consent Decree (CD) issued to KUB in 2005. Since PACE 10 began, KUB has upgraded an average of 25 miles of sewer line per year, which represents 2 percent of the system annually or a sustainable 50-year replacement cycle.
KUB finished the last of the 134 collection system projects required under the CD in 2014 and will complete required plant projects by the end of the CD term in 2021. At that time, KUB will complete PACE 10 and transition the wastewater system under Century II with our other systems.
With the proposed level of investment over 10 years, KUB will:
Complete CD Phase II upgrades at Kuwahee and Fourth Creek wastewater treatment plants
Establish an Infrastructure Replacement Program (IRP), as required by the CD, that will be administered under Century II just as with our other systems
Continue to replace 25 miles of pipe per year (2 percent of system)
Significantly improve the wastewater system:
· Before: Older pipe types make up 75 percent of system
· In 10 years: Older pipe types about 33 percent of system