Compressed Natural Gas
Compressed Natural Gas (CNG) fueling station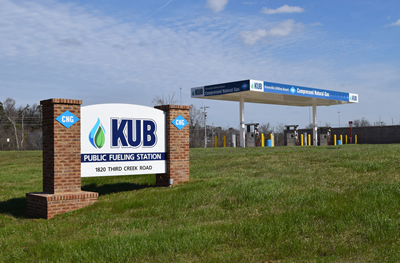 KUB supports the use of clean, environmentally friendly fuels, and has opened a public Compressed Natural Gas (CNG) fueling station to serve the community. This new station will allow our customers better access to this clean fueling source. It will support the growth of local CNG fleets and also serve CNG traffic passing through Knoxville. For questions about the station, or to discuss your CNG fleet needs, please contact us at call 865-558-2420.

Station Facts:
Hours: 24/7
Bathrooms: None
Amenities: Four Public Use Dispensers
Credit Cards Accepted: Visa, Master Card, Discover, Voyager, Wright Express. American Express not accepted.
Current Public Price per Gas Gallon Equivalent (GGE): $1.903
Canopy Clearance Height: 15' 6"