Project Help
Help Knoxville families stayed safe and warm
In 2016, 667 needy Knoxville families stayed safe and warm, thanks to generous people like you donated $166,170.36. With the uncertain economy, even more families will be struggling this year.
Please do something heartwarming this year and give to Project Help. Even $1 a month on your KUB bill can help a neighbor in need. Or you can make a one-time donation at any time during the year. [See below for donation details.] Project Help depends solely on contributions from the community and fundraisers to help those in need.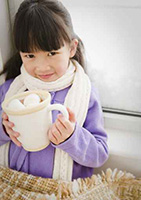 What Is Project Help?
Project Help is an emergency heating-assistance program that buys electricity, natural gas, propane, heating oil, wood, or coal for people who need temporary help with their heating bills. Project Help clients may have an emergency need because of job loss, illness, injury, or disability, or they may be seniors struggling with the rising cost of living.
The Knoxville-Knox County Community Action Committee (CAC) administers Project Help. KUB collects donations with customer bills and sends 100 percent of the funds to CAC.
Donating to Project Help Is Easy -- And Tax Deductible
KUB customers can make a one-time donation or a monthly pledge online, and all donations are tax deductible. KUB will add your pledge amount to your bill each month unless you cancel your pledge.
You can also donate with your bill if you don't pay online. Just fill in the dollar amount of your one-time donation or monthly pledge on the form on the back of your bill, and add that amount to your check. KUB will add any pledge to your bill each month unless you cancel your pledge.
You can make a one-time donation at any time by writing a check payable to Project Help and mailing it to the address below:
Project Help
P.O. Box 59017
Knoxville, TN 37950
KUB collects the donations and the Knoxville-Knox County Community Action Committee (CAC) administers Project Help. All donations go directly to provide assistance to those in need. Project Help of East Tennessee, Inc. is a 501(c)(3) charitable organization, and donors receive an annual contribution letter for tax purposes.
Recycle Your Newspapers, Magazines, and More for Project Help
You can help the environment and those in need by recycling most types of paper in Project Help bins at participating Pilot locations and other businesses in our community. You can recycle newspapers, magazines, catalogs, junk mail, school coupon books, phone books, white and colored paper, envelopes (regular and window), and file folders. (Note: You do not need to remove staples or paper clips.) The recycling effort raises about $1,500 a year to help needy families heat their homes.
Cumberland Pilot- 5800 Western Ave, Knoxville
Cedar Bluff Pilot- 421 N. Cedar Bluff, Knoxville
Northshore Pilot- 7686 S. Northshore Drive, Knoxville
Would Your Business Like to Recycle for Project Help?
Recycling paper can be good for business, help the environment, and raise funds to help those in need heat their homes. If you can spare one parking space, Spectra Recycling can help your business recycle most types of paper at no cost to you. For more information, click here or call Spectra Recycling at 865-523-6397
How Can I Apply for Project Help funds?
Contact the CAC at 865-637-6700 to see if you qualify for emergency assistance through Project Help or the Low Income Energy Assistance Program.